Dear all,
The New Moon in Libra rolls in this Thursday, October 19th, at 3:12 PM Eastern US time.
Coming swift on the heels of Jupiter's entrance into Scorpio last Tuesday, this Libra New Moon puts the finishing touches on the Jupiter-in-Libra story of the past year, and invites us to clear the way for a new Scorpio cycle, which will begin in earnest with the Scorpio New Moon in November.
The Sabian Image for the Sun and Moon at 26 degrees, 35 minutes Libra is "An Airplane Sails High in the Clear, Bright Sky." It's an image, as astrologer Lynda Hill writes, that "gives the feeling of unfettered freedom" and "escape."
The emphasis on freedom and escape is further highlighted in the chart by the position of Uranus exactly opposite the New Moon, at 26 degrees, 31 minutes Aries. As I noted earlier this month, the tighter the aspect, the more intense the energy. Each minute is one sixtieth of a degree: out of the 21,600 minutes in the Zodiac, this Libra New Moon and Uranus in Aries are FOUR minutes away from a perfect opposition.
Uranus is the Lord of Chaos and Change. He rules freedom, escape, invention, innovation, explosions, and breaking through barriers. In independent Aries (where he's been traveling since March 2011), Uranus is especially pioneering and self-willed. The Sun and Moon in Libra want to compromise and unite; Uranus in Aries would prefer to cut his losses.
Mend fences or burn bridges? The choice is yours. Either way, the chart shows that radical changes are afoot, whether we're emotionally ready or not. We'll feel this planetary tug-of-war within our psyches, and see it in the world around us.
The great big Grand Trine in Fire is still in orb, too, so Uranus gets rocket-powered by Saturn in Sadge and the North Node in Leo. These planets, together with the Sun and Moon in Libra — and with Eris, who is still in orb of her conjunction to Uranus —form a remarkably perfect Kite (pictured below). As a major configuration requiring four or more planets, Kites are a fairly rare phenomenon, offering a fated opportunity.
The Kite swoops in, scoops you up, and carries you away, then drops you off someplace else. Can you steer it? Maybe, a little.
When the chart is cast for Washington, DC, the Sun and Moon fall in the Eighth House of sex, death, taxes, debts, investments, inheritance, and financial institutions — while Uranus and Eris fall in the Second House of money and property. Those of us in the US can expect economic upheaval in the coming month (perhaps tied to the recent executive order, which radically restructures the healthcare system, one sixth of the American economy, right before ACA open enrollment is scheduled to start, on November 1st). The Node of Fate in this chart is conjunct the US natal Moon. It's probably not the best time to buy new stocks.
It is, however, an absolutely lovely time to let go of what no longer serves your soul's growth. Picture yourself soaring above the day-to-day, like an aviator in the clouds. What seems small and unimportant in the life below you? What would you not miss if it weren't there?
Clear out the old to make space for the new. Remember the Scorpio New Moon next month! You'll want to be ready to start on some  abundant Moon-Jupiter plans.
This New Moon brings us back to the fall of 1982, when Saturn and Pluto met in Libra. Think back to that period of your life — or your parents' lives, if you're a youngster. The restructuring now is tied to what was going on then.
And finally, if you'd like to learn even more about next week's New Moon in Libra, I welcome you to sign up for my New Moon Manifestation Circle Webinar TONIGHT (Monday 10/16). I'll go through these aspects in detail, and help you figure out where they land in YOUR personal chart. It's also a chance to ask all your burning questions. Scroll down for details.
Big hugs,
Anne
---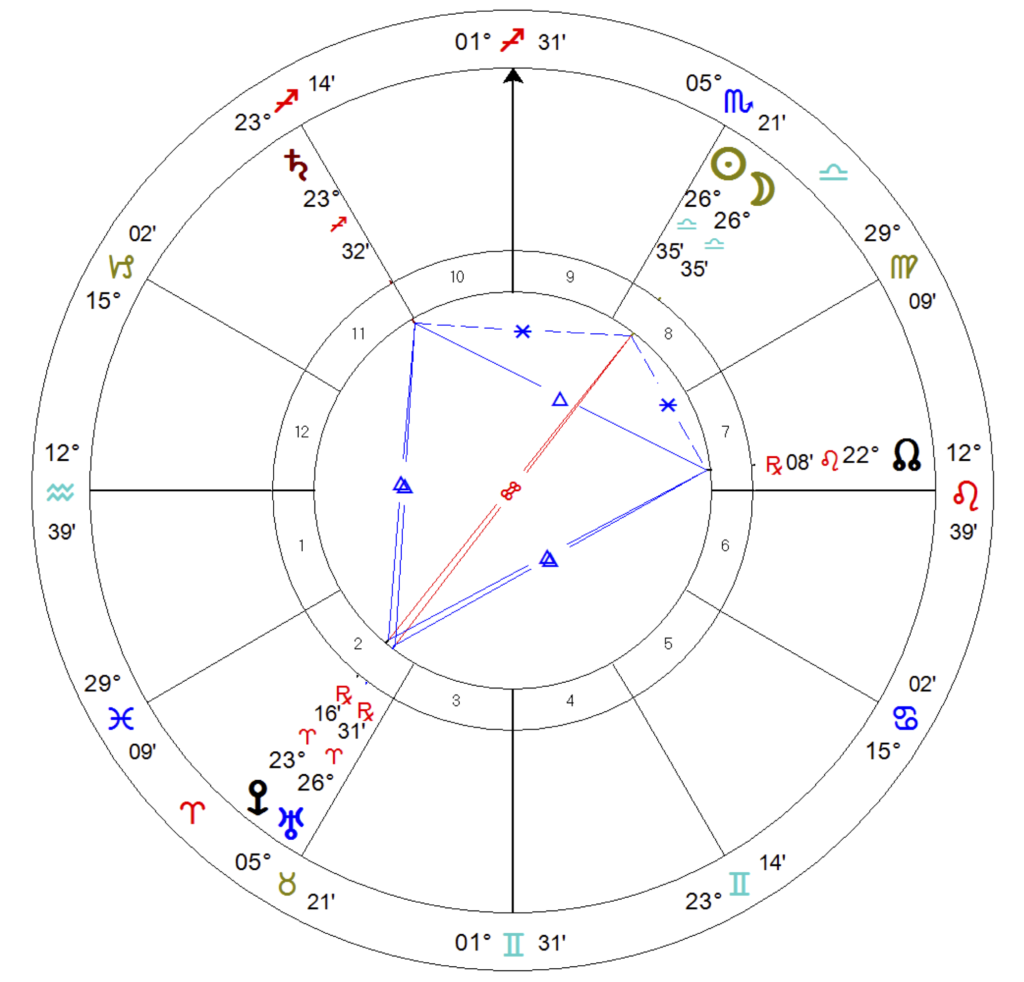 The New Moon in LIbra (the Kite)
Chart cast for Washington, DC, on October 19th, 2017
3:12 PM Eastern US time

Print Friendly