Here we are, everyone!
A new season is here, as the Sun entered Libra on Saturday, September 22nd at 9:55 PM Eastern US time, marking the Autumnal Equinox, and the official start of fall in the Northern Hemisphere.
In the Libra Ingress chart cast for Washington, DC (which governs the whole of the US, because our capital is there), we find the Sun, Mercury, and Ceres combust in the Fifth House of creativity. These Libra planets all answer to Venus in Scorpio — a particularly passionate, intense mode of Venus — just now in the process of regrouping, after some hard squares to Mars and the Nodes last week, offering you important choices around the direction of your life.
Venus in Scorpio is Not Your Mama's Venus, and she's going to be like this till January 7th! In Scorpio, the nice Divine Feminine is inflected by the not-so-nice Lord of the Underworld. I often call this the "Fatal Attraction" Venus: hot sex, bunny-boiling, and all. She is a jealous and vengeful Goddess . . . but only when crossed. The key is to tap into her passions.
This fall and winter, during Venus's LOOONG transit in the sign of her detriment, you might get the idea that Libras, Tauruses, and women of all sorts are acting crabby (*especially* so while the Sun is in Libra, over the next 30 days). Well, maybe they are — or maybe they've just had it with this #$@&%*!
Venus in Scorpio is here to remind us that "nice" and "kind" are not the same thing. Know your own value and proceed accordingly. Scorpio is the sign of accounting. Venus is measuring and tallying to determine how she's respected.
The North and South Nodes of Fate are now at 4 degrees of Leo and Aquarius, respectively, right on the Eclipse points from July 27, 2018. Do you remember the Full Moon Eclipse in July? What was going on then, resurfaces now. (NB: July 30 was the date that Christine Blasey Ford informed Diane Feinstein of her story.)
This Libra Ingress chart has a whopping fifteen planets and points between 0 and 9 degrees of the various signs, making the zeitgeist incredibly sparky and reactive. Anticipate a kind of cosmic ricochet effect. It's impossible to guess what the outcome of our choices will be; just focus on doing the right thing, step by step.
If you have natal planets between 0 and 9, you might be feeling distractible, anxious, and altogether very stimulated. Work with these feelings — and get ready to pounce. This energy system is in place for the next three months. The upside of this chaos is that you have a rare opportunity to initiate a number of projects at once, with vociferous intraplanetary dialogue cheering you on.
Like the Sun, Chiron is currently on the World Axis (defined as 0 degrees of any cardinal sign), portending big news and secrets revealed. Chiron is traditionally associated with wounding and healing; Chiron opposite the Sun in the Eleventh House of groups, and conjunct the fixed star Scheat (pronounced "#$@&%*!"), has been expressed in recent days through the influx of #WhyIDidn'tReport stories on social media, responses to yet another senselessly cruel tweet from the President of the United States, making folks aware of what one writer called "the tragic banality of rape in America."
In mythology, Chiron was a healer and a teacher of heroes. Like his brethren, he was half horse and half man, a walking metaphor for the struggle between our bestial and divine natures, like a premodern version of Jekyll and Hyde. Most centaurs moreover (although not Chiron) were associated with rape when drunk. Chiron in the sky opposing the Sun and Mercury (intellectual planets) suggests that we need to be alert to this duality in our lives.
Libra is the sign of partnership: the heavens are inviting us to partner with our own internal contradictions, and to be very conscious of who we partner with. Be very conscious of your choices. Alliances formed now can last a lifetime, and "actions have consequences" is another big message of this Ingress.
Wishing you everything your heart desires.
Big hugs,
Anne
P.S. For more on the astrology of the Kavanaugh nomination, please visit my Instagram — and while you're there, check out some cute photos of Max and Remoh. xoxo
P.P.S. Subscribe to my mailing list to get early access to these reports.
---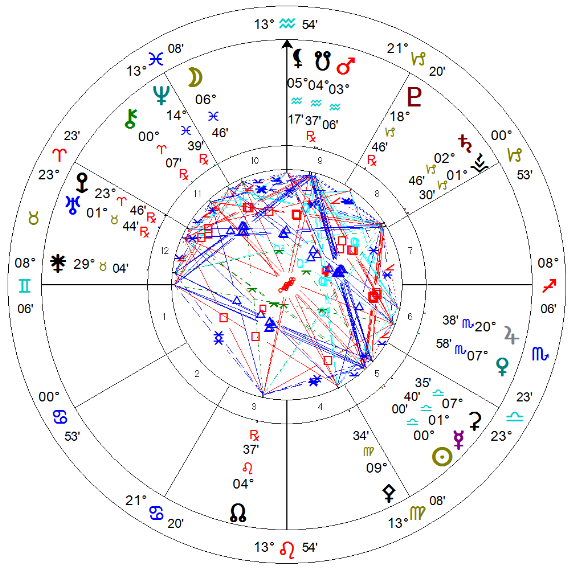 The Libra Ingress of the Sun
September 22, 2018 at 9:54 PM
---

Print Friendly